76th Commencement Ceremony
Save the Date
June 6, 2024 at 9:00 am
Shepard Stadium
2024 Commencement Keynote Speaker
Guest Information
2023 Commencement Brochure
Tickets:

 Tickets will be required for all guests above the age of 4 to attend the ceremony, with each graduate being offered up to six tickets. Graduates can access the ticket link in the email titled Pierce College 75th Commencement June 8th. Additional tickets can be requested but DOES NOT guarantee additional tickets. If additional tickets become available, graduates will be notified the week of May 29th.

Schedule - Coming Soon 
General tips/safety information.
Alcohol is not to be brought and/or consumed on campus.

Balloons, noisemakers, beach balls, laser pointers, fireworks, etc. are not allowed.

Graduation caps may be decorated. Pierce College reserves the right to remove any caps that are deemed inappropriate.

It is recommended that graduates not wear heels and guests wear comfy shoes since the day may include a lot of walking to get from car to stadium.    

Children must be supervised at all times and are not permitted on the stage with their graduate.

Leave valuable belongings (purse, etc.) at home. Pierce College is not responsible for your belongings when you walk across the stage to graduate.

Smoking is not permitted in seating areas.

Avoid unnecessary conversation and movement during the ceremony. Individuals who engage in inappropriate or disruptive behavior may be removed from the event.

Students may not take selfies or use selfie sticks while crossing the stage. Due to fire code regulations, all main access aisles must remain clear of objects - backpacks, strollers, mobility assistive devices, etc.

As a courtesy to your fellow graduates, students are asked to return to their seats after they receive their in-lieu diploma. Commencement does not officially end until the proclamation of degrees has been made.  
Commencement FAQ
The 75th Commencement ceremony will be held at Shepard Stadium at Pierce College on Thursday, June 8th at 9:00 am.
Graduates should arrive by 7:30 am at the Field House located next to Shepard stadium. Arrive early, Pierce College is a large campus and some of the parking lots are at least a 15-minute walk from the stadium. 
Tickets are required to enter the stadium. Due to limited stadium seating, each graduate can request up to 6 guest tickets. The link to request tickets was emailed to all graduates. Please complete the "Additional Ticket" request form if you would like additional tickets. Students will be contacted via their LACCD email should additional tickets become available. The last day to pick up your tickets will be on Friday, June 2nd at Grad Fest
You can pick up your tickets at the bookstore starting Monday, May 8th. 
You must have a picture ID to pick up your tickets
In order for commencement to start on time, the saving of seats will be permitted only up to 30 minutes prior to commencement, at which time all seats will be filled on a first-come, first-served basis.
Yes, you must RSVP by Friday, May 26th. Please check your LACCD email for the RSVP link.
In order to participate in graduation, you must have a submitted a graduation petition for Fall 2022, winter 2023 or Spring 2023 by April 14. If you didn't receive an email (make sure you check your spam folder), contact the Welcome Center located in the Student Services building. They will check if your petition was received.
Fall 2022 graduates, and Winter 2023 and Spring 2023 candidates. As much as we would love to open up the commencement ceremony to prior year graduates, only current academic year graduates will be invited to participate in this year's ceremony.
Yes. We will have 2 rehearsals.
 
In-Person rehearsal: (No RSVP required)
GRAD FEST – Student can enjoy free food, live music, pick up their cap & gown, cap decoration and rehearsal/ticket pick-up
Day: Friday, June 2nd 
Time: 5:00 pm – 8:00 pm
Location: Shepard Stadium
Online rehearsal:
Day: Monday, June 5th
Time: 1:00 pm
Yes, all graduates will receive a free cap and gown. You must RSVP prior to picking it up at the Pierce College Bookstore. You can start picking up your free cap & gown and graduation gifts on Monday, May 8th. You must have a picture ID to pick up your cap & gown.
While preparing for the procession to begin, position the tassel on your mortarboard (hat) on the right side. Towards the end of the ceremony, you will be instructed to switch the tassel from the right to the left side of your hat. When marching in the recessional, the tassel will be on the left side to signify that you are a graduate.
Name cards will be given to students eligible to participate in the commencement ceremony on the day of the ceremony. You will need to clearly print your name on it, and you will keep the card with you until you walk onto the stage.  You will give the name card to the announcer at the podium. They will keep the card and give it to the photographer at the end of the ceremony. The readers have been instructed not to read additional comments written on the cards.  The photographer will take a picture of you as you receive your in-lieu diploma.
Parking is free. Shuttles are scheduled to pick up guests at various parking lots before and after commencement.
Yes, on Facebook and YouTube. Links will be available soon.
Degree candidate seating will be divided by last name. Last names beginning with the letters A – L will sit on the home side of the stadium. Last names beginning with the letters M – Z will sit on the visitor side. Nursing students will sit together. As you arrive at the Field House, commencement staff will direct you.
Students with physical disabilities who are unable to walk to the stage will be seated prior to the beginning of the ceremony. The diplomas will be issued on the stage and require going up and down stairs or a ramp. Any student with a disability who needs accommodations or assistance must inform Carlos Rosas in the Academic Accommodations Center at (818) 719-6430 or aac@piercecollege.edu. Special arrangements will be made for those students to participate in the ceremony. 
Parking

Please note the ceremony will be held at Shepard Stadium, located at the top of the hill in the center of campus. Shuttles are provided from Lot 8 and Lot 7.  Besides ADA parking, the closest general parking would be Lot 6, Lot 1, and Lot 8.
General Parking
Lot 6 Enter from De Soto Ave (by Music / Performing Arts Center)

Lot 8 Enter from De Soto Ave (by Farm w/shuttle stop)

Lots 1 Enter from Winnetka (by Tennis Courts)

Lot 7 Enter from Victory & Mason (by Library w/shuttle stop - Overflow )
ADA Parking Pass Required
Lot 4 Across from Stadium, enter from Winnetka
Lot 5 Stadium parking enter from Winnetka
Student Drop-off
Student dropoff is in front of the Admissions building from the Winnetka Ave Entrance (Same as the rideshare dropoff ).
Please note the ceremony will be held at Shepard Stadium, located at the top of the hill in the center of campus. Shuttles are provided from Lot 8 and Lot 7.  Besides ADA parking, the closest general parking would be Lot 6, Lot 1, and Lot 8.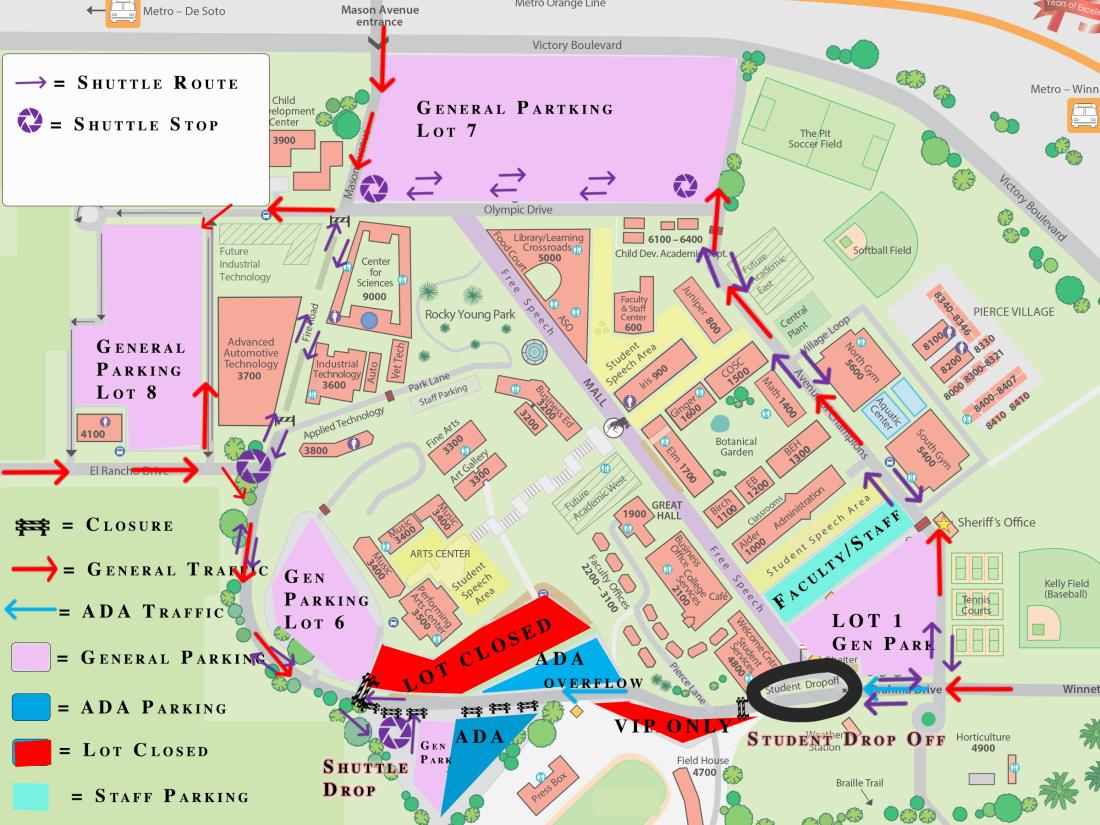 Students
Petition to graduate
Petition forms
Student with disabilities
Rehearsal times
Graduation reception
Cap and gown