Coyote Alert on Campus
September 27, 2022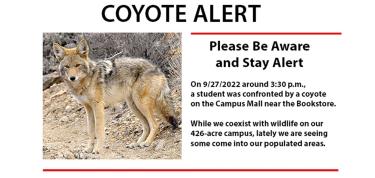 On 9/27/2022 around 3:30 p.m., a student was confronted by a coyote on the Campus Mall near the Bookstore. Pierce is investigating this incident, and, in the meantime we want to alert all our students, employees and visitors to be aware and alert.
Wildlife has coexisted with us at L.A. Pierce College for 75 years; half of our 426-acre campus is undeveloped land we share with them. However, lately we are seeing some of them coming into our populated areas on campus.
Guidance from California Department of Fish and Wildlife:
Most coyote attacks occur in relation to a food source or attractant drawing the coyote close to people, pets, or livestock. A food conditioned, or habituated coyote may become bold and act aggressively towards people. Prevention is the key.
IF YOU SEE A COYOTE and IT SEES YOU:
Keep a safe distance. Clap hands, make noise and allow it to move away on its own.
IF YOU ENCOUNTER A COYOTE and IT APPROACHES YOU:
Make yourself look bigger by lifting and waving arms.
Make noise by yelling, using noisemakers, or whistles. If small children are present, keep them close to you.
IF YOU ENCOUNTER A COYOTE – and IT ATTEMPTS TO ATTACK A PERSON OR PET:
Get to a safe location
ON CAMPUS, if a person was bitten or scratched by the coyote, call The L.A. Sheriff's Dept. Office at 818-719-6450 24/7 and seek medical attention.
Off campus, call 9-1-1 and seek medical attention.
For more tips visit https://wildlife.ca.gov/Keep-Me-Wild/Coyote. Stay Safe, Brahmas!