Program for Accelerated College Education (PACE)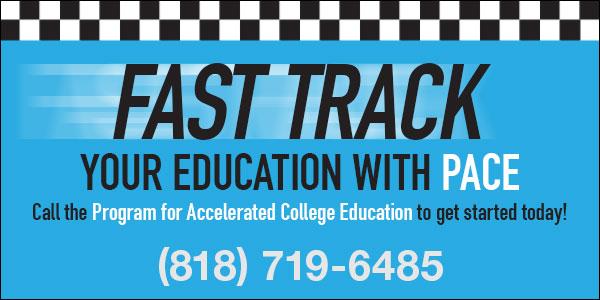 Enroll in classes now!
Trouble enrolling? Current students: Contact Students Services Online
Questions? We have PACE Zoom drop-in hours:
Monday: 3:30-4:30pm
Tuesday: 12 - 1 and 6 -7 pm
Wednesday: 10-11am
Thursday: 12-1 pm and 6-7 pm
Please Note: There are no Zoom drop-in hours on Tuesday or Thursday evening when there is a 'Zoom Information Session' - see dates below
If you have any questions or concerns, please email Lupita: narkevlr@laccd.edu
Off
Upcoming Zoom Information Session:
Prospective PACE students - RSVP through Eventbrite to receive the Zoom link on the day of the event:
Dec. 7, 2023 from 6-7 pm Group 1:  Eventbrite RSVP
Please note - You can register for either group as they are the same presentation. 
Can't make a PACE Info Session? No problem. You can meet with our Student Services Assistant, Lupita, for a one-on-one Information Session: narkevlr@laccd.edu
What is PACE?
The Program for Accelerated College Education (PACE) is special Pierce College program designed to provide students with the ability to graduate in two years. We know life can be busy; therefore, we designed a program to help you achieve your career and academic goals.
PACE coursework is compressed to fit into 8-week quarters, instead of 16-week semesters.
PACE classes follow the CSU & IGETC GE certified plans that can be applied to ANY Associate Degree for Transfer program.
PACE offers a guided pathway toward graduation.
PACE students typically take 10 classes each year, during 5 PACE sessions (fall, spring, summer) to graduate in two years. There are five PACE sessions offered in a school year: two in the fall, two in the spring, and one in the summer. Note: Students are not required to follow this sequence. See below.
Why do students love PACE?
Pick TWO to get through! PACE students study for only TWO 8-week classes at a time and still complete FOUR classes (or more) in a semester! You can remain a full-time student while studying for only TWO classes at a time.
How to Become a PACE Student in TWO steps:
STEP 1:
Become a Pierce College Student.
Please go to Apply Online.
Note: If you are already a Pierce College or other LACCD student, you can skip to STEP 2.
STEP 2:
Complete the Online PACE Orientation & submit the PACE application.
Current Students: Go to the Online PACE Orientation in Canvas
(Log into SIS to self-enroll)
NEW Pierce Students: contact Lupita to receive PACE application
(virtual links at top of page or email: narkevlr@laccd.edu)
Welcome to PACE!
Enrolling: Once you submit your PACE application, you can enroll in PACE classes.
Counseling: PACE Students can make an appointment with the PACE counselor through PACE, not Cranium Cafe.
Go to: PACE Counseling 
We are PROUD of so many
PACE success stories!
"I am the first female transportation director in LAUSD and I am the first Latina transportation director. PACE opened that door for me and made education possible. I would not be in the position I am today without that initial step, that opportunity that allowed me, a single parent, to grow.
I was invited to Washington DC where I received recognition. There, a congressman said to me, "Someone along the way opened the door for you." That was PACE. PACE created the access I needed by offering classes in a non-traditional schedule in a program set up to support people like myself. I knew I was capable of more, I just needed help to get there."
- Lilia Montoya, former LAUSD Director of Transportation; Deputy Chief Executive Officer Long Beach Transit
"PACE was such a great journey! I went back to school at 48 years old. The program helped me with everything. I didn't have to navigate which classes to take. PACE laid out the plan for me and I followed it. The guidance from the Pierce College PACE program was excellent. It was an easy-to-follow program and it worked with my schedule. I took classes in the evening after work. I never hit any speed bumps where I thought it was too much. The structured program made it easy for me and I was surprised and excited that I graduated with two degrees before transferring to CSUN. I received my Bachelor's degree in Public Sector Management and advanced in my career to Regional Transportation Manager."
- Deborah Duarte, LAUSD Regional Transportation Manager
Why PACE? Fast track your education!
Anyone can become a PACE student!
PACE students complete a program of study at an accelerated rate.
PACE students get priority to get the classes they need! PACE classes are only open to PACE students first.
PACE students can take regular Pierce classes and PACE classes. This gives students access to more class options.
PACE follows a guided pathway which is a structured plan for students to follow; this simplifies enrollment.
PACE classes are hybrid or all online which means less time on campus.
PACE offers an alternative schedule — online classes, classes that meet one evening a week and every other Saturday, and/or classes that only meet one evening a week (No Saturday).
PACE classes are quick! Classes are eight weeks in length.
PACE has several educational paths; each path prepares students for a degree AND for transfer.
PACE students can work full-time and attend college full-time.
PACE has a designated counselor to assist students in planning their educational goals.
PACE is also designed so that students can seamlessly transfer to a variety of four-year institutions — public and private.
Add and Drop Dates
In SIS, click on the class section number. At the bottom of the page, you will find the Important Dates section with add and drop dates.
Important: To ADD CLASSES once the semester begins, students need to go to class to get a permission code to add. For online classes, please email the instructor for a code. Do not forget to enter the permission code in the system to complete your enrollment.
PACE Office
Office Hours and Location
Mondays: 9:00AM - 5:00PM
Wednesdays: 9:00AM to 1:00PM
Tuesday & Thursday: 11:30am - 7:30PM
Fridays: Out of Office
Saturdays to Sundays: Closed
Student Community Center 1905
 
Contact
Phone: (818) 719-6485
Please Note: The PACE office is closed during PACE Orientations. The office also opens later on Orientation days. For the Orientation schedule, please see the Orientation page.