ADVANCED GARDENING
---
Advanced Gardening Certificate of Achievement
These programs are designed to prepare a student for employment in the field of horticulture. Individuals are prepared for employment by various private companies in the horticulture industries, governmental agencies, or to become self-employed. These programs may also serve as continuing education for those already employed in some field of horticulture. Students with a casual interest in horticulture desiring to take classes for information and interest are also accepted.
Gainful Employment
To find information about the careers for which this certificate prepares you, the costs associated with the program, median debt accumulated by students completing the program, and time to completion, please review the Gainful Employment Disclosure.
Program Learning Outcomes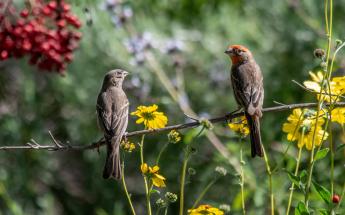 Upon completion of this program, students will:
Identify and practice the safe use of tools, equipment, and supplies used in horticulture careers, including the maintenance of trees and shrubs from youth to specimen maturity, in such careers as gardening or landscape technician.
Propagate, grow, and maintain plants in horticulture production systems utilizing fundamental principles of soils, botany, and principles of horticulture.
Identify and categorize regional and California plants by common name, growth, morphological characteristics, genus, and species.
Install and maintain irrigation systems meeting varying specifications as outlined by blueprint drawings.
Develop solutions for a wide variety of plant health issues, including common pests and microbial diseases.
Certificate - Required courses
PLNT SC 701: Retail Floral Design and Practices I (2 units)
PLNT SC 711: Botany for Horticulture (3 units)
PLNT SC 714: Principles of Horticulture (3 units)
PLNT SC 896A: Horticulture Projects A (1 unit)
PLNT SC 896B: Horticulture Projects B (2 units)
Certificate - Elective courses
Select a minimum of 20 semester units
PLNT SC 103 (3 units), 701 (2 units), 711 (3 units), 714 (3 units), 716 (1 unit), 756 (3 units), 757 (3 units), 800 (3 units), 801 (3 units), 802 (3 units), 806 (4 units), 807 (4 units), 812(3 units), 815 (3 units), 816 (1 unit), 818 (3 units), 822 (3 units), 826 (3 units), 896 (3 units)
Certificate - Total Units 20
Location
Horse/Equine Science
Agriculture & Natural Resources
Office: CFS 91043